---
This is the Classic Stage effect but with Vernet's quality.
This is a complete set of sixteen multicolor thimbles. With them you can perform vanishes color changes penetrations and multicolored productions. The Vernet Multicolored Magic Thimbles are specially designed and consist in pairs of thimbles nested one inside the other. With this set you can perform special routines and moves and also the classic routines describe in the greats books.
-Beautifully made in high quality plastic.
-Perfect for close-up parlor or stage.
-Very visual and effective.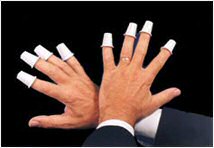 Code M-041